Hello Everybody!


I've been meaning to write this post for about two weeks now in hopes of rallying support for my beloved Boston Red Sox... But it looks like I am too little too late. I saw this commercial in an e-mail Chels's dad sent to me and I couldn't help but feel a little bit of
Déjà vu...

October can be an Dangerous time in our livingroom
...
.
I Am a Red Sox Fan


For those of you who don't know, it would be a serious understatement to say that I am a pretty big Red Sox fan
. Chels and I have already
discussed how we are going to decorate my home
office
in Red Sox paraphernalia including painting one entire w
all like the Green Monster.
Manny Being Manny


S
ome big things
happened this year in Red Sox
Nation,
In
juries took
there toll on several Red Sox stars and Manny
Being Manny
finally got Manny traded.
Re-Cap


The Red So
x were stricken with the injury bug w
hen Big Papi w
ent out in May with a wrist injury. In August JD Dre
w went out with a back injury and in late September, last years World Series MVP, Mike
Lowell went out
with a hip injury. But the bruised and battered Sox still were able to maintain a tight race with Tampa Bay for the A.L. East crown. The Sox made the playoffs as the A.L.
Wildcard team and played the
Los Angeles Angels of Anaheim whom which they destroyed. It was then on to face the dreaded Rays, the new A.L. East champs. After winning game 1 in Tampa the Red Sox went on to lose 3 games in a row including two at Fenway Park. After a historic comeback in Game 5 the Red Sox took the series to 7 games where they unfortunately
could not capture the pennate. The Rays went on to lose in the World Series to the Philidelpha Phillies...
There's Always Next Year
Well you can't expect those good ole boys from Boston to pull it out every year and there are a few positive things I got out of the fall classic even though my team couldn't pull
it out. First and formost the evil empire, the great satan, the mother of everything that is wrong and twisted about sports, yes the dreaded Yankees did not make the playoffs this year... Even if the Red Sox
lost in the first round I would sleep soundly knowing that those (you chose the explitives) from the Bronx had their season cut way short.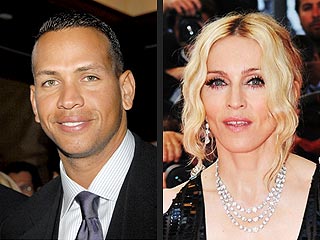 But hey at least it gave A-Rod a little bit more time to destroy Madge's marriage...eh?

Lastly I can find solace in the fact that this post season was incredibly exciting and
the Red Sox, in true Red Sox fashion made this post-season worth watching.... After their exit, the only excitement found in the World Series came from a somewhat sloppy close game and a rain delay... Anyway congrats to Philladelpha on their Championship.
Below I attached a little highlight film I put together to celebrate those boys of summer who always seem to shake things up and make
October interesting.
p.s. I'm still bummed out so be sure to post many many comments consolling me and giving me hope in that famous old saying... There's Always Next Year